| | |
| --- | --- |
| UK-wide photography competition highlights different faiths | 6th Sep 2010 |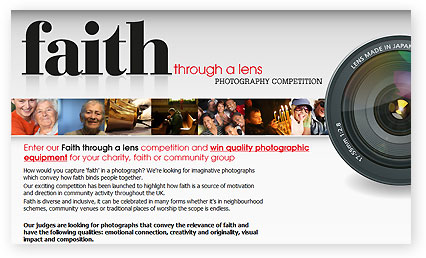 A photography competition, called Faith Through a Lens, is aiming to highlight the positive impact that different faiths can have on communities.

The competition has been launched this week by Congregational & General and is open to entries from all amateur photographers whose pictures reveal the importance of faith within their local area.

Aiming to convey the personal experience of faith within each community and of the role faith can have in uniting communities, the competition will be judged by a panel including the Reverend Dr David Cornick, General Secretary of Churches Together in England and esteemed photographer Don McCullin.

Images will be judged on their relevance, emotional connection, creativity and originality. The winning entries will receive professional photographic equipment to be donated to their chosen charity, faith or community group.

Congregational's marketing manager, Margaret Slater said, "Faith in the UK today is diverse and inclusive, and as photography has become so accessible, we felt that this competition would be an effective way of reaching out to people from all backgrounds, beliefs and regions across the country."

The competition will run until 31 October, and will be followed by an awards ceremony at a London-based gallery during this year's Interfaith Week in November. Entries can be uploaded at Faith Through A Lens.
Photography competitions are a great way to set yourself projects as a photographer. If entering more photography competitions strikes a chord and you'd like to brush up on your skills check out our photography courses and videos.