| | |
| --- | --- |
| News photography exhibition opens in Edinburgh | 11th Aug 2010 |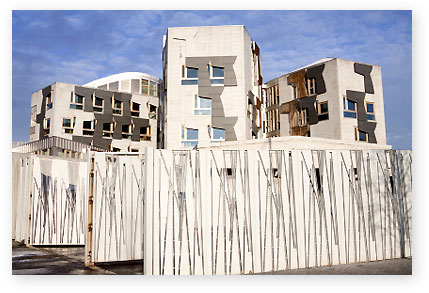 The Scottish Parliament in Edinburgh is hosting the world's most prestigious exhibition of news photography, which runs until 28 August.
The 53rd staging of the World Press Photo exhibition has attracted 101,960 photographs for consideration, from 5,900 photographers, based in 128 countries.
The finalists ­ 170 photographs by 62 photographers from 22 different countries ­ were chosen for the strength of their photographs, covering war and civil strife, nature, sport and portraiture.
This year's overall winning image shows women in Tehran, Iran, shouting on a rooftop in protest at the 2009 presidential election results by Italian photographer Pietro Masturzo.
Other images include US soldiers responding to Taliban fire outside their bunker in Afghanistan, Australian bushfires, Barack Obama's inauguration day, England cricketers at the Oval, Senegalese wrestlers and tango dancers in Argentina.
The exhibition is travelling to almost 100 locations around the world but the Scottish Parliament is one of only two locations in the UK - and the only Parliament in the world - to display the winning entries. This is the fifth time that the Scottish Parliament has hosted the exhibition.
Presiding Officer Alex Fergusson MSP said, "The exhibition is always fascinating and we are, again, privileged to be hosting this collection at Holyrood. Last year almost 60,000 people visited the exhibition, which shows just how much of a draw the stunning images are."
Check out the photos for yourself in the Scottish Parliament's main hall between 10am and 5.30pm Monday to Friday, or Saturday 11am to 5.30pm. The last admission is 30 minutes before closing.