| | |
| --- | --- |
| Fujifilm FinePix Real3D is world's first 3D compact digital camera | 13th Jul 2009 |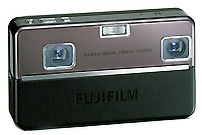 The world's first compact 3D digital camera is being launched by Fujifilm in the UK in September after its initial summer launch in Japan.

The pictures taken by the dual-lensed, 10 megapixel camera will be viewable (without silly specs) through a special 8-inch LCD picture frame and 3D prints are also available. The prints are made using a clear film overlay which acts as a 3D lens. This service is expected to be offered online by Fujifilm to allow Fujifilm Finepix 3D owners to view and show their 3D photographs.

The price of the camera is the only downside to this fantastic new development in digital photography. The camera is likely to be priced at £370 before tax after it is launched in the UK. The question on many keen photographers' lips will be - is the novelty of 3D really worth the £370+ price tag?

The likely answer for many will be 'no' but for more experimental photographers who like to play with effects and perspectives it could really add a lot to their work and may just about be worth the splurge. Despite not being into gadget - I think it's a great idea which could produce some fantastic imagery if it works.
But once the initial excitement over the 3D image dies down the pictures will still need to be properly composed, exposed and be taken in the right lighting - as with any other camera, our Masterclass in Photography is the place to begin.