| | |
| --- | --- |
| Sony releases three dSLRs | 18th Jun 2009 |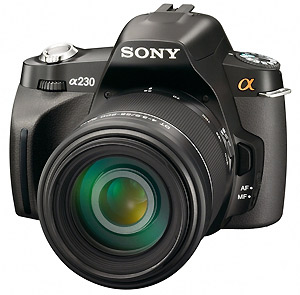 Sony is to release three new digital SLR cameras next month. The Alpha 230, Alpha 330 and Alpha 380 will be available in the UK from mid-June, and retail prices will start at £530 for the cheapest model, the A230.

All three cameras will have APS-C size CCD sensors, Bionz image processors, lens mounts, pop up flash and a 2.7-inch LCD monitor (this will feature as a pull out on the two more expensive versions of the camera).

The Alpha 230 has a 10.2 megapixel resolution and is said by Sony to be the "world's lightest DSLR featuring an APS-C sized image sensor and in-body image stabilisation."

The Alpha 380 has a 14.7 megapixel resolution. It can display two frames per second in Sony's "live view" mode and also features an HDMI socket and 2.5fps continuous shooting mode.

The three new cameras are consistent with Sony's three-tier strategy for its low-end SLRs.

The Alpha 230 is being sold at a similar price to the Canon EOS Rebel XS and the popular Nikon D60.
As with all cameras you have to know how to get out of 'auto' to get realy striking images - particularly with a camera such as theese. A DSLR stuck in auto won't make any difference to your photography - the pictures will be the same as from a compact but possibly better resolution.
If you're moving up to a DSLR and want to get the best from it our Masterclass in Photography could help you. It cuts through overly technical jargon - and teachs simple techniques that ensure exciting comopsitions, bright colours and sharp pictures every time.