| | |
| --- | --- |
| Polariod film will not fit new model | 7th May 2010 |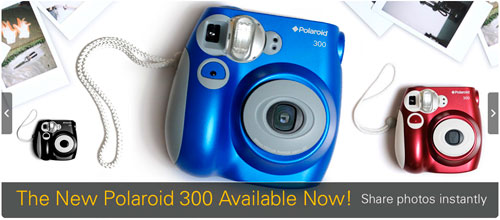 Polaroid's attempt to revive the instant camera has been criticised by the manufacturers of the original instant film after discovering that the camera and film will not be compatible.

The company last week unveiled the Polaroid 300, a product of Polaroid's new partnership with Fujifilm.

It is a throwback to the old instant film cameras in every way apart from the fact it now prints out business card-sized images.

Dutch company, Impossible B.V. ­ which bought and operates Polaroid's Amsterdam film manufacturing plant in 2008 ­ said they had expected Polaroid to launch a new version of the Polaroid 1000 after its showcase at CES in January.

The 300 will not now accept the traditional Polaroid film that Impossible makes, which they relaunched last month and would have fitted in the 1000.

A spokeswoman for Impossible B.V said: 'The management of the Impossible Project finds this confusing and clearly wants to state that the Polaroid 300 is not the camera that has been announced in Polaroid's press release from January 7 2010.'

No comment has been received from Polaroid.

The Polaroid 300, which is based on the Fuji Instax camera, has four film settings, an automatic flash and is powered by four AA batteries.

No announcement has been made yet on when it will be rolled out in the UK and what its price will be.