| | |
| --- | --- |
| Samsung releases first 12 megapixel camera phone | 1st Jun 2009 |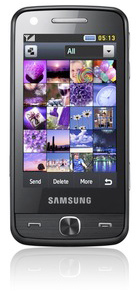 The Pixon 12, from Samsung, will be the first 12 megapixel camera phone to be released, beating efforts from Sony Ericsson and LG to release one first.

The phone, which is also known as the M8910, is set to be released later in June, while Sony Ericsson's Idou/Satio is planned for release later in the year. LG is yet to announce a release date for its 12 megapixel offering.

The camera, which comes complete with WiFi connectivity and HSPU, also has a 28mm wide-angle lens and can also shoot video up to 720x480 pixels in resolution.
I spent a while searching without success for still image pixel resolution - but at 12MP files will have to be big.

It has a Xenon flash and will be able to save pictures quickly thanks to its instant shoot facility, claims Samsung. The phone also has a 150MB internal memory and supports a 16GB microSD memory card.

Samsung says the 3.1 inch OLED touchscreen offers better contrast ratio and improved colour reproduction. The screen also uses much less battery power than displays of the past. Snappers will also welcome the addition of the one-touch camera button which brings up the camera facility in seconds.

A special feature is the ability to upload pictures easily to social networking sites including Facebook, Flickr and MySpace.
The thing is - you don't need 12 megapixels to take great photos! More megapixels only mean bigger prints and as most people don't print these days I don't see the point.
On our one to one photography training page is a picture of me holding a DSLR taken on a 5 megapixel phone - which we enlarged to A3 for a PR event.
The key to getting great pictures isn't megapixels - it's knowing how to use the the features on camera weather it's a compact, phone or DSLR. To get to grips with your camera you need The Masterclass in Photography - you can even get a free sample!