| | |
| --- | --- |
| Brazilian football fans help photographer win Sony award | 30th Mar 2010 |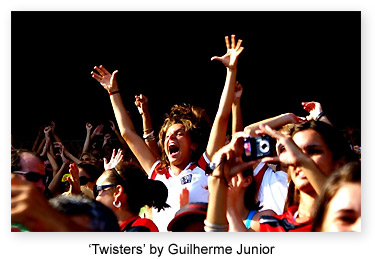 Brazilian amateur photographer, Guilherme Junior, has won the prestigious 2010 Sony World Photography Awards' Campaign Award.

The brief for the competition was for an amateur photographer to take a photograph that conveyed the passion of football from a fan's point of view.
The winning image shows the football crowd at a match held in Rio de Janeiro. Brazilians are famously passionate about the Beautiful Game and, as a result, it seems appropriate that the winning photograph should be by a Brazilian and of Brazilian fans.

The fans in the picture are watching the Flamengo soccer team who are said to have the best fans in the whole of the country. The image is entitled 'Twisters' and was taken with a Sony DSLR-A200 camera.

One of the judges for the contest, sports photographer Delly Carr, said of the winning image: "This female fan epitomises football's energy and passion. She is singled out from the rest of the crowd through her 'over-the-top' celebratory jump, and therefore as one with the team. She has channelled all her energy into that explosive reaction. Her face is pure joy."

James Kennedy, Director of Brand Communications at Sony Europe added, "This year's winning image really conveys the true spirit and camaraderie of the cultural phenomenon that is football."
Don't forget - the Sony World Photography awards are for everyone. If you're inspired and would like to enter one of the competitions visit their site and take a look.
If you feel you'd like to brush up on your skills - take a look at our photography course packages and take take your photography to the next level.