| | |
| --- | --- |
| Sony reveals new DSLR for its Alpha range | 14th Jan 2010 |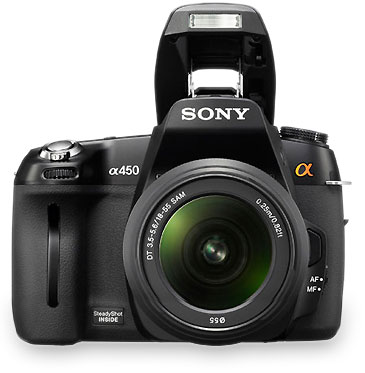 Sony has revealed that it will be releasing another addition to its Alpha range of cameras in February.

You could say that the new Sony A450 DSLR camera is a smaller version of the A500 as it has a 14.2 megapixel CMOS sensor, which the A500 also has. However, it lacks the A500's fast-AF live view and tilting screen.

The A450 has a screen measuring 2.6 inches, making it smaller that the A500.
However, although it is smaller, the camera's battery life has been improved and it can capture more than 1,000 shots with a single battery charge.

Some critics claim that the smaller cameras within the Alpha range differ very slightly, making the decision of which one to purchase very confusing! For example, the A450 also has much in common with the Sony A230. It has a longer battery life but aside from this, there is little to tell them apart.

The A450's other notable features include Auto HDR, Manual Focus Check Live View, as many as seven frames per second continuous shooting and SteadyShot INSIDE.

Sony says that the new A450 is a good all rounder.
If you've got a DSLR but aren't getting the results you'd hoped for - take a look at our affordable Masterclass in Photography download and One-to-One Photography Course. It's not the camera which takes great pics - it's the photographer who knows how to use it!