| | |
| --- | --- |
| Olympus champions mirrorless cameras | 17th Nov 2009 |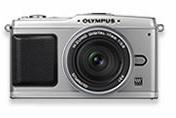 Olympus says that the manufacture of mirrorless cameras with interchangeable camera lenses will be the future of the industry.

The camera firm's products marketing manager Mark Thackara says there are "economic reasons" for the predictions about mirrorless cameras. He explains, "it's a more effective way of building the cameras, so you will see in coming years economic benefits in doing it this way."

Olympus calls this category of camera the 'pen camera' but Thackara says that it needs more explanation and a generic category name.

Olympus is launching an advertising campaign for its new Pen range. Thackara explains that many more cameras are expected to be released in the range, "this is the first of many. It's a novel. It's not a short story... We are on Chapter Two."

The advertising campaign features Kevin Spacey and Olympus hopes it will encourage people to use an interchangeable lens camera where they may have used an SLR in the past. The camera firm says it wants to "create a desire for people to take better photos in the broader world [outside just the photographic market]".

Despite this, Olympus says it may expand its range of Micro Four Thirds lenses but will not do so right away.
If you are looking to learn how to take bettter photographs in general, have a look at our Masterclass in Photography.