| | |
| --- | --- |
| Wolf picture wins Veolia Environment Wildlife Photographer of the Year | 22nd Oct 2009 |
Last night the Natural History Museum in London played host to the Veolia Environment Wildlife Photographer of the Year award ceremony, which saw Spanish photographer José Luis Rodríguez win the first prize for his shot of an Iberian Wolf.

The photograph has a fairytale-like quality about it and pictures the majestic and rarely seen animal jumping over a wooden fence against a beautiful background.
To get the exact composition he wanted, Rodríguez scorned his Nikon D2X in favour of a Hassleblad 6x6 medium format camera.
The image was captured on Fuji Velvia ISO 50 at f11 with 80mm lens and a specially made trigger to fire a flash as the wolf leaped the gate.

Fergus Gill, a teenager from Scotland, won the prize for Veolia Environment Young Wildlife Photographer of the Year, with his dramatic photo of fighting yellowhammers.
As with landscapes, there's a huge amount of planning goes into a wildlife shoot.
Fergus began the previous summer when he gathered sheaves of oats from a nearby farm and stored them as winter food to lure the birds and form part of the composition.
The following February he heard snow was forecast and set up his hide the night before and rose early next morning to begin his vigil.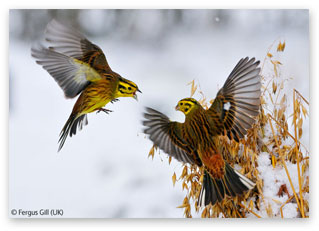 Fergus had set out other feeders and after a couple of hours the Yellowhammers began to feed on his sheaf of oats.
As the day wore on Fergus noticed minor squabbles breaking out between rival males and decided to concentrate on this aspect of behaviour.
After two days of sitting in a freezing hide in the snow he was rewarded with this amazing image!

A record 43,135 entries were submitted in to the competition, from photographers hailing from 94 different countries. This is a 33 per cent increase on the number of entries last year.

Jim Brandenburg, a photographer and judge of the competition, says, "while there is no magic formula for winning and no hard and fast rules to explain why one photograph wins and another doesn't, all winning shots have one thing in common - ­ originality."
If any of our clients entered the awards, Jayne and I would love to see your images so please let us know.

Entries for next year's competition can be made from January to March 2010.
If you fancy dusting the camera off and giving it a go we're always here to help with our 'One-to-One' photography course where you can learn straight forward techniques that'll make all the difference. And our Masterclass in Photography is perfect if you're just starting out.
And take courage from Fergus - to get his shot he used a long lens, fast shutter speed, planning and perseverance. You can do that too...