| | |
| --- | --- |
| High-speed flash enables photographer to capture humming birds | 19th Dec 2009 |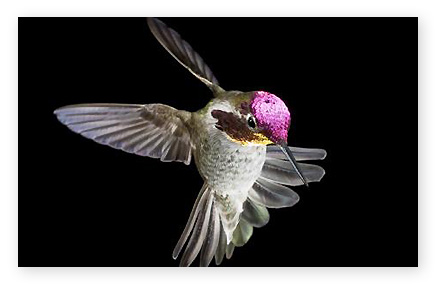 Photographer Pat Hunt has developed a technique for taking pictures of humming birds in flight.

The birds flap their wings 90 times a second, making them impossible to photograph in detail with a regular camera.
So 71-year-old photographer Hunt, from California, studied flash photography on the internet.
Using a combination of four speed lights, which flash for just 1/25,000 of a second, Hunt has managed to capture the birds without blurring.

He set up his equipment around a bird feeder in his friend's house and took the pictures from 15 feet away.
He used a shutter release remote control and says he spent a long time playing with the camera lens to get the birds perfectly focused.

Hunt explained, "My friend has been feeding the birds for fifteen years and it was an obvious attraction for a compulsive photographer like me."

He continued, "I especially wanted to challenge myself with the humming birds. I read on the internet that no camera shutter is currently fast enough to stop a hummer's wings and the technique is all about the lights."
If you'd like to learn more about flash photography - come on a One-to-One photography course with me and we'll concentrate of getting your flash technique up to speed. If you're a beginner, take a look at our Ultimate Beginners Course.