| | |
| --- | --- |
| Major photography festival kicks off in Derby | 2nd Mar 2011 |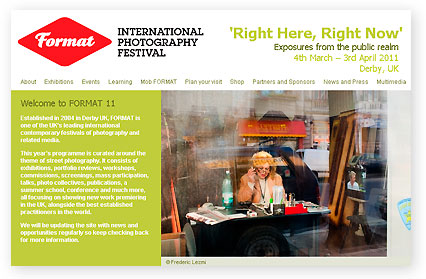 The Format Festival, which will take place in Derby throughout March, will focus on street photography, with work from international photographers on display.

The theme for this year's festival, entitled FORMAT11, is 'Right Here, Right Now: Exposures from the Public Realm.'

FORMAT11 will include over 3,000 photographs and art pieces by 3,000 artists from all over the world, alongside a busy schedule of lectures, workshops and events.

Organisers are saying that the festival ­ which will be held at numerous venues across Derby including Derby Museum and Art Gallery, UAD and Banks Mill - will provide the 'most comprehensive survey of street photography ever seen.'

St Peter's Street in the city centre will host a giant pinhole camera, which will take over an entire shop, allowing passersby to 'walk into' the action.

Magnum photographer Bruce Gilden has been commissioned to create a photographic portrait of Derby's people, which has been entitled Head On 2010.

Louise Clements, festival curator said, "We want the public to 'mob' us with their own street photography. They can either upload their photographs via the Format website - or tag your photograph in Flickr."

FORMAT11 will run from 4 March to 3 April 2011.
PhotographyCourses.Biz Please join us on FaceBook for photography tips, videos and more...