| | |
| --- | --- |
| Eastleigh railway works opens to amateur photographers | 16th Apr 2009 |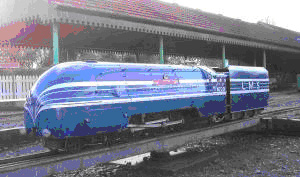 Eastleigh works is having a series of open days, giving photographers the chance to take pictures of its collection of historic steam, diesel and electric trains.

The event, called Eastleigh 100, is marking the centenary of the Southern Railways Works and the London and South Western Railway.

The works were closed in March 2006 but they have since been reopened and the site is full of trains. Photographers will be able to book their place to photograph the locomotives without the crowds, during four special photo events.

These events include the 20th May night shoot which will be floodlit and will take place between 8:45pm and 11:00 pm. Photographers can also arrive any time after 8am each day of the event for an early chance to take their pictures.

Keen train photographers will have to book in advance of the events as tickets are limited to ensure numbers are kept to a minimum. The event has been organised by Railway Magazine and Knights Rail Services to make sure it runs smoothly. Demand is expected to be high for this unique opportunity to take pictures of these rare locomotives.
If you want to hone your skills beforehand take a look at our Ultimate Beginners Course, it has all you need be you a beginner or enthusiastic hobbyist.