| | |
| --- | --- |
| Digital photography tips: shooting at night | 20th Aug 2009 |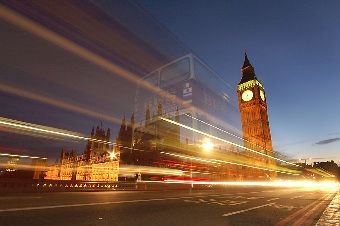 Good lighting is critical when it comes to taking great photos -­ but low light is no excuse for missing good photo opportunities!
Low light doesn't necessarily mean 'bad' light, it just means there's not much of it about. (Check out our Photography Videos for hints on white balance and using flash).
Even shooting at night can still deliver some stunning results if you follow a few basic digital photography tips.
All you need is a good tripod, a good quality lens, a decent lens hood (to stop light entering at weird angles and making your pictures look 'milky'), a few torches plus imagination and patience.
Remember that old children's trick of shining a torch across your face from below when telling ghost stories in the dark? Use it to create interesting light effects. Experiment with different types of illumination such as LEDs.
Set a long exposure for a static object like a post box or statue and 'paint in' the light with your torch -­ or even try drawing in objects using a coloured light in the same way you write your name with a sparkler on Bonfire Night.
You will need to increase your aperture and slow your shutter speed to make the most of the available light.
Cameras are pre-programmed to make exposures which make everything look as though the picture were taken in daylight. If you're photographing at night you want dark pictures, so decrease the exposure by minus one or two stops with the camera's exposure compensation control.
To avoid blurring, you must keep your lens absolutely rock-steady. This is where a tripod is essential. Even a basic mini-tripod can be a real boon. But make sure it's sturdy ­- a wobbly tripod is no use to anyone.
Don't expect to shoot fast-moving objects at night and get pin sharp focus -­ you won't.
But the blurring effect can work in your favour if you're shooting traffic, all those moving car lights can create spectacular lines of colour!
We explain how to do this photograph in The Masterclass in Photography.
For more free digital photography tips plus information on digital photography courses or one-to-one training days, contact us now.
/compact_or_dslr.html