| | |
| --- | --- |
| Digital Camera Photographer of the Year named | 19th Dec 2009 |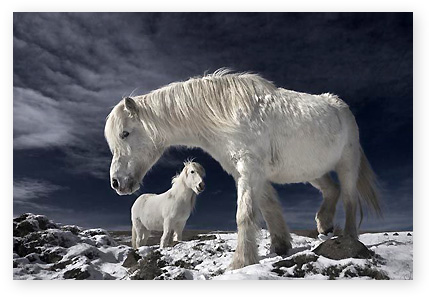 An Icelandic photographer has been named the Digital Camera Photographer of the Year at this year's high-profile awards ceremony.

Bragi J.Ingibergsson used a Canon EOS 5D camera to achieve his fantastic picture of two white horses in a snowy landscape.
The photo, named 'Partners', won the award as a result if its "simple and quiet nature", according to the judges, who admired the photographer's "vision and perseverance to give an ordinary scene significance and a sense of wildness".

Another picture called 'The Pacu Jawi' won the Telegraph-sponsored World in Motion category. The photo shows a cow race that takes place each year in West Sumatra to celebrate the end of the harvesting season. Another favourite in this category pictures young Buddhist monks playing football in Burma.

An Italian photographer, Nicola Bombassei, took the competition's third favourite picture, which featured a friend of the photographer climbing mountains in the Dolomite mountain range in Italy.

The competition is run by Digital Camera magazine and sister website photoradar.com. It attracted over 100,000 entries with judges hailing from organisations including the Press Association and Getty Images.
Photography is an amazing and fulfilling passion but it's not the camera that makes the picture - it's the photographer. It was Bragi's eye for light and composition combined with his knowledge of what lens to use which resulted in this fantastic image of what could be a very ordinary scene. The camera he used to capture it is almost irrelevant.
If you'd like to enter more photo competitions but don't feel confident enough - take a look at our Ultimate Beginners Course, or come on a One to One photography course with me (Mike Browne). I'm friendly, don't bite and we have some big Christmas discounts on offer until midnight 1st January.