| | |
| --- | --- |
| Digital photography enhanced with iPhone app | 5th Sep 2009 |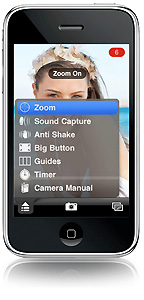 Though there's no substitute for a bit of your own photographic knowledge, CodeGoo's Camera Genius application for the Apple iPhone maximises the digital photography capabilities of the device.

According to technology analysts at the CNET website, Camera Genius makes the iPhone's camera "a lot more useful", quipping that the phone's own straightforward point-and-shoot interface is not likely "to win any awards" in the photography arena.

"When you launch Camera Genius it will activate your iPhone camera automatically," CNET notes. "You now have access to an enhanced photography experience."

Pointing out that images captured on the iPhone are prone to pixelation the more a user zooms, the reviewers nevertheless single out the zoom feature on Camera Genius for its ability to turn an iPhone into "a magnifying lens".
As we all use our phones for more and more for capturing images it's great to see some really useful features appearing such as a 'rule if thirds' and five other compositional guides to help you get better pictures.
There's also a self timer - useful if you want to get yourself in the picture too as well as for setting off the shutter when you don't want to touch the camera and risk moving it - as in close up shot for example.
Another new feature is called 'Anti Shake' which is a version of image stabilising / vibration reduction to help keep your pictures sharp.


One feature praised by the team is Big Button, which transforms the iPhone's entire screen into a shutter button - personally I think this one sounds a bit gimmicky but then I haven't actually tried it myself so...!
With a bit of know how you can take great pictures with almost anything. The iphone is a great phone and organiser which also gives you the opportunity to take great pictures.
Provided you know some photography basics covered in our Ultimate Beginners course there's no reason why you can't capture images everyone will think were taken with a DSLR - this pic of me was taken on a battered old Nokia N73!

Other hardware add-ons currently popular among iPhone photography enthusiasts include the Griffin Clarifi for colour enhancement and the FastMac iV battery charger, which doubles as a torch and camera flash.