| | |
| --- | --- |
| Thought-provoking images net major photographic awards | 5th Dec 2010 |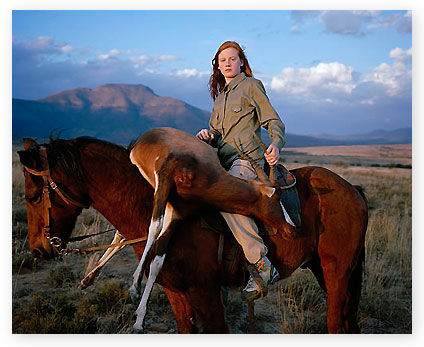 A striking portrait of a teenage girl hunting in South Africa has netted its photographer a major prize.

David Chancellor, 49, has been awarded the Taylor Wessing Photographic Portrait Prize, part of the National Portrait Gallery photography season, for his shot 'Huntress With Buck.'

Chancellor, originally from Solihull, snapped the image of 14-year-old Josie Slaughter, from Alabama, USA, on her first hunting trip in South Africa.

"Josie had hunted her buck earlier in the day and was returning to camp... The contrast between the peace and tranquility of the location, plus Josie's ethereal beauty and the dead buck, was what I wanted to explore. Here was a vulnerability and yet also a strength," he said.

Chancellor was originally a banker by trade but gave it all up to indulge his love of photography and specialises in documentary reportage and portraiture, both in London and Cape Town. He collected his award at the National Portrait Gallery in London last night, alongside the second prize winner, Panayiotis Lamprou, from Athens, and the third-placed American Jeffrey Stockbridge.

Lamprou's image, entitled 'Portrait Of My British Wife', was of his wife's naked lower half, whilst Stockbridge's photograph depicted his twin sisters, who are both insomniac prostitutes.

Do you like shooting portraits? These photography video tutorials on lenses and compostion have got some handy hints. If you'd like to see more then why not have a look at our downloadable courses?