| | |
| --- | --- |
| Chichester Camera Club launches annual exhibition | 20th Aug 2011 |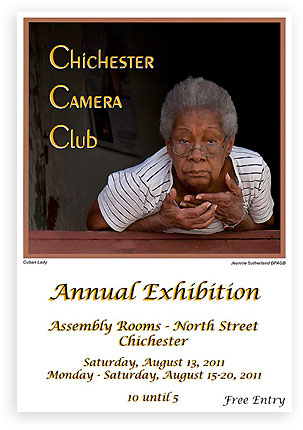 Chichester Camera Club is to hold its annual exhibition, displaying a huge range of photographs taken by its members.
This year's exhibition will be held in the Assembly Rooms, North Street, Chichester until 20 August. As well as inviting people to view the photographs, the club hopes it will encourage a few new faces to consider taking up the hobby.
Club chairman John Bradshaw told the Sussex Express: "This is our annual exhibition where any members that want to submit work can do so. It is a huge body of work which is judged.
People can submit a number of images but they may only get two in the final show. It's the very best work."
He added that the feedback the members receive from the exhibition can be important in shaping their future photography work.
Members produce their work in digital, darkroom print and slide formats and the size of the club ­ which has a membership of around 150 ­ means that there are sub-groups within it to promote specialised interest, such as portraiture, digital processing and audio visual displays.
According to the paper, the exhibition is open from 10am to 5pm and entry is free. Members will be available to discuss the work on show.
Stay in touch with us on...