| | |
| --- | --- |
| Local photographer spotlights Cardiff's Victorian Arcades | 22nd Feb 2011 |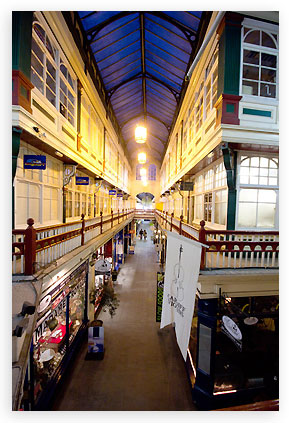 A local photographer is shining a spotlight onto Cardiff's Victorian Arcades with her new photography project.

Amy Davies, 23, was keen to showcase the architecture, businesses and people who use the arcades each day, so set about creating a photo project to highlight them.

Davies, who lives in a flat above the Castle Arcade, said, "I like to walk through the Arcades. I was thinking about how interesting it could be to do a photo project in them, and I've always been interested in taking photos in them.

"The first set of photos have been on the architecture of the Arcades, particularly the Royal Arcade. I've had comments from people on the photos saying it will make them look up when they walk through next time," she added.

Davies is also hoping that her photographs will raise the profile of the arcades ­and it seems to be working already ­ the blog she set up to display the photos has already received more than 2,500 views.

A Royal & Morgan Arcades spokesperson said, "We have been working with Amy since the inception of her project, as we think that it is a fabulous idea.

The spokesperson went on to say that the project would definitely help to raise the profile of all of Cardiff's Victorian arcades, 'which are undoubtedly one of the city's unique selling points.'

See the photographs at http://cardiffarcades.wordpress.com/
Setting yourself a photography project is a brilliant way to practise discipline in your photography. If you're starting out it may seem a bit daunting but our photography videos are here to help.
Please follow and like us on Facebook, Twitter and Flickr using the links at the bottom.
Comments
No posts yet, please be the first!