| | |
| --- | --- |
| Canon releases fun, easy-to-use compact DSLR camera | 23rd Sep 2009 |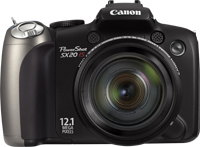 The Canon PowerShot SX20 IS, which comes with a 12.1Mp sensor, is a fun-to-use, simple camera that comes with a reasonable price tag of £320.

Though not a DSLR, tests have found that the camera produced high-quality images thanks to the DiGIC4 image processor, which Canon also uses in its high-end products. Reviewers say the camera's 20 x zoom lens produces excellent results at both ends of it's massive 28 - 580mm focal range, even when using the in built macro settings.

In fact, the 20x zoom option is the biggest selling point for this camera. The camera comes with an image stabilisation feature, which means that users can take pictures at 20x zoom with much less risk of camera shake, which is what causes blurriness in so many long lens pictures.
Camera shake is caused when tiny movements of the camera when being held in the users hand are magnified by long lenses. The best cure is to use a tripod but image stabilising will help reduce it.

However, there are a few downsides to this fun camera, such as its chunky size (14.5cm in width when the lens is fully extended) and its small zoom lever.
It also has a jumpy zoom action, which means that control can be a nuisance when you want to zoom in precisely for a particular shot.
One review suggested that because the LCD screen pops out and swivels it can also make framing tricky shots more difficult. Personally I love flip out screens because they're so useful when composing shots in awkward situations - like a low angle for example.

However, overall it seems the new Canon is great fun to use and relatively easy to master. A well-priced introduction camera for people who don't want to go all the way and get a DSLR
Photographers can also benefit from built in Hints & Tips in the user interface. Short descriptions of functions simplify the use of the camera and encourage the user to explore the features - which is always a good thing in my opinion.
However there's no substitute to knowing how to use apertures, focal lengths, ISOs, shutter speeds and all the other basic controls of the camera so you can take the pictures you want to take. No matter how many features a camera has - it can't think for you and is relatively easy to confuse.
If you find yourself loving some of the shots you take but are never quite sure how you achieved them our Ultimate Beginners Course will clear the mist and put you in control of your camera.