| | |
| --- | --- |
| Brighton Photo Biennial readies for fourth incarnation | 9th Oct 2010 |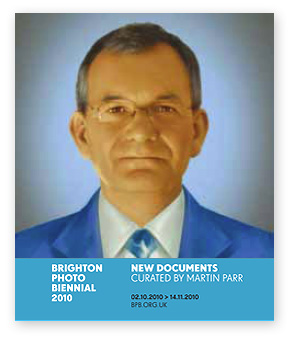 The Brighton Photo Biennial (BPB) is taking place throughout October and November and will showcase a range of both discovered and commissioned works from photographers from all corners of the globe.

BPB 2010, subtitled New Documents, is the fourth incarnation of the photographic festival, which stages exhibitions and displays throughout the city over a six-week period.
These exhibitions will include five by guest curator, Martin Parr.

The festival boasts of being the world's first frame-free photography festival and will allow visitors to view the programme of displays, talks and workshops entirely on foot in galleries and public spaces in Brighton and Hove.

Mr Parr said his vision for the festival was to reflect the unique position that the Sussex town has in the UK's artistic scene.

"As curator I want to make this festival fresh, distinctive and focused on Brighton and Hove," he explained. "This city is the ideal venue for photo biennial as it has a natural cultural consistency of its own."

The opening weekend - taking place on 1-3 October - will offer a rare opportunity to hear many of the artists invited to be part of the Biennial present their work, debate current issues influencing the latest developments in photography, publishing and printing.
Why not brush up on your photo skills and gain confidence with our beginners photography course, or understanding camera lenses course? They're easy to follow and written in everyday language with an evident sense of humour.
One to One Photography Courses are great value because everything we do is relevant to you - and you alone.