| | |
| --- | --- |
| Amateur photographer wins Astronomy photographer award | 23rd Sep 2009 |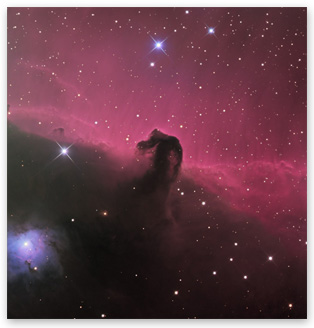 The 2009 Astronomy Photographer of the Year award has been won by British amateur photographer and astronomer, Martin Pugh.

Pugh took the winning pictures from an observatory he set up in his back garden in Australia where he now lives and works - for the Australian Navy.

His picture of the Horsehead Nebula in Orion, showing a remarkably clear picture of the dust cloud, won the judges over.

The competition is run by the Greenwich Observatory in London and judges were particularly impressed with the detail of Pugh's photographs. The Horsehead Nebula, which is some 1,500 light years from Earth, was photographed over a period of two months.

The BBC's Sky at Night presenter, Chris Lintott, spoke to the Daily Mail, stating, "you have to track the stars accurately for many hours to get an image like this. Objects glow at different wavelengths so the photographer had to put together images from the different colour channels to get this effect." He added, "the detail is absolutely stunning, whether it's the fine structure in the curtain behind the horse or the subtle details on the edge of the dark nebula itself."

Pugh started taking pictures of space in 1999 with £3,000-worth of equipment. He has since purchased over £20,000-worth of kit, which allows him to compete with professional stargazers and photographers.
Now you don't need that level of investment to start taking the pictures you've always wanted to take. You can get great images out of the most basic of cameras but a DSLR will give you the most control. About £500 should set you going - though perhaps not in the field of astronomy which is rather specialised.
However the same rules of light, exposures and composition apply whether photographing nebulae, your car, a landscape or your partner.
So if you feel you could do with a little help, look at our Ultimate Beginners Course or - please call me for a chat on 01590 670224 or visit the site at www.photographycourses.biz.