| | |
| --- | --- |
| Ten airshow photography tips - how to shoot airplanes at an air show. | 17th Aug 2009 |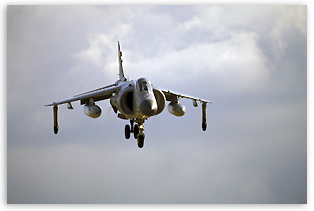 Air shows are just packed with exciting photographic opportunities just waiting for you to snap them up. And With the free Bournemouth Airshow coming up this weekend here are some tips on how to photograph air shows.
So with the summer holidays upon us it's time to dust off your camera and indulge at the many air shows being held up and down the country throughout the summer.

As a lover of aircraft myself - I thought I'd better write a few tips to help you get the very best airplane photography possible.

So let's get going…

1. Use a long lens to get an up close feel to your airplane photography -­ otherwise you'll end up with a tiny dot in the distance which no one will believe is a Hawker Harrier. Check out our Photography Videos for more tips about this.

2. If you don't have a long lens - look online and hire one. I've seen a 100-300 mm F4 Sigma zoom for as little as £29 per day.

3. Compact or Bridge Camera users can zoom out to the maximum optical zoom. Don't be tempted to use the extra 'digital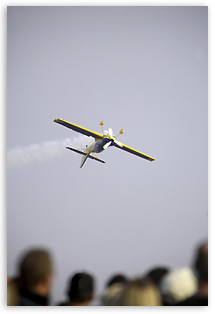 zoom' though ­ it's usually rubbish quality :-(

4. Try not to shoot into the sun as it'll make your pictures very dark or even silhouettes. Follow the plane and wait until it gets in front of a patch of clear sky.

5. Set your autofocus to continuous tracking mode so it'll keep the subject in focus as you follow it through the viewfinder.

6. Do a 'recce' before the action starts and work out the best place for your airshow photography. Great photos are as much about planning a shoot as they are about the camera.

7. Compact and Bridge Camera users can lose the annoying delay between pressing the button and the picture being taken by half pressing the button, holding it until you've got your shot lined up - ­ then press it the rest of the way and the camera will take the picture instantly.

8. Try standing back and including the backs of the crowd's heads to give your airshow photography a sense of place. For this shot to work you must use a long lens and move yourself back a bit or your airplane will be too tiny to see.

9. Set your camera's ISO to 400 to help you avoid blurry camera shake in your airplane photography. If you have a more expensive DSLR you can probably go higher without losing image quality.

10. Photographing the Red Arrows is tricky because they move so fast over such a huge distance so be patient, watch the display for a moment and see where the main action is. Concentrate on that area for a few minutes and get one or two great shots -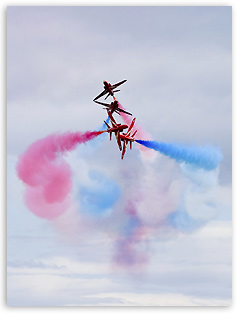 instead of loads of unexciting ones.

... and seeing as I'm such a nice guy - here's two more!

11. Wait for airplanes to begin to turn at the beginning or end of their run so you get some top views as well as side on photos.

12. When photographing air shows always keep your eyes peeled for ground based action as well as what's going on in the sky. Amazed audiences make great candid people pictures.

If you'd like some help getting to grips with your camera so you can quickly and easily use the controls and concentrate on getting great compositions ­ why not try one of our photography courses.

There are free samples and all of them have a money back guarantee if you're not satisfied.

Happy shooting…

Mike Browne

/compact_or_dslr.html
Comments
No posts yet, please be the first!