| | |
| --- | --- |
| What Do You Want From Your Photography? | 13th Jun 2014 |
Ability to shoot perfect images instinctively?
Recognition as a great photographer by friends, family and peers?
To see your images published or wining awards?
Everyone agrees it's not the camera that takes the photo - it's you. So if you're a little disappointed with your images, does the issue lay with your camera? Or is it with what you're doing with your camera?

Everything we do begins with our thoughts. It could be spur of the moment like, "That's pretty - I'll take a photo of it." To "I want to shoot some portraits of my family." Or "I want to go on a photo holiday somewhere breathtaking and photograph it."

As you raise the camera to your eye you'll be considering composition and the settings to use. So if you are not thinking like a photographer how can you expect to capture those exciting images you crave?

I shot this 'candid' for a client's website this week
It had to convey spontaneity and fun
Feel like a real party
Have space for text to be added
These are real kids fresh home from school - not models or actors. It took 30 minutes to plan before the kids arrived. For it to work it had to BE a real kids party for them. The shot had to be ready for them before they arrived - composed, focal length set, light managed, exposure ready, depth of field and where to focus etc.

Here's a very different kind of image also shot for a client this week
Needs to subtly reflect the brand and customer - without being obvious
All natural artisan product
understated - but interesting at the same time
(You'll see how it was planned because we made a video of the shoot)

The point is, both images followed a brief. In these cases, from the client. If shooting a wedding or scene the brief is made up on the spur of the moment. Like when Elliot and Emma had their first dance a couple of weeks ago.

Needs to capture movement and still be sharp
Emotion is vital
Eye catching - so where's the view point going to be?
Shot in camera (no photoshop effects)
Snaps come out of the camera - eye catching images come from you

We all know the buzz of 'getting a good one' and it's a deeply satisfying feel-good-about-yourself thing. So what is a good one? It's one that conveys a feeling or desire with in the viewer. Gets them interested, want to see, try, taste, own or go there for themselves and experience it first hand. Love passion excitement....

Know what the magician knows and thinks - and it's no longer magic

Ever noticed how magicians say. "What you are about to see is not magic - it's an illusion." Then they pull car from a walnut and turn an elephant into a tennis racket.

When you know what the photographer knows, a second curtain rear sync flash and ambient light exposure / composition like the wedding dance above are easy.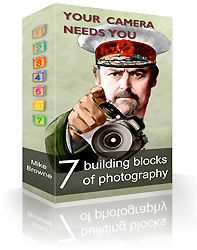 Your next step in creating and enrolling people in your photography is to think like a photographer. If you don't know how to do that yet invest £117.77 in The 7 Building Blocks of Photography, 7 week downloadable course. You have several hundred £s worth of camera equipment so why wouldn't you want to get the most out of it - and yourself?

Wouldn't you love to be able to see it in your minds eye - and make it happen. Seamlessly, effortlessly and quickly.

I've given you tons of great tutorials for free already. And I know from the 100s of messages I get each week you love them - and trust me. (Have you any idea how much love passion and excitement I get from your messages?)

There's no risk. If after completing the course you can honestly say it was no good I'll refund you in full. No hard feelings. You can keep the knowledge you've gained as a bonus.
But I know you will get loads from it. I guarantee it.
Thanks for another week following your advice, going through the videos and worksheets. Enjoying the course, money well spent. A great addition to your free videos.

Tom Fletcher (currently doing 7 Building Blocks of Photography)