| | |
| --- | --- |
| Photography Tips to help you get great images in dull cloudy weather | 3rd Feb 2010 |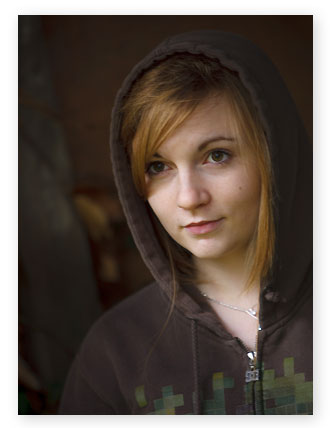 We all want sunny evenings to go photographing - but in these photography tips I'm going to help you find great images even on the dullest of days.

Don't leave your cameras at home just because it's cloudy and you think the light's rubbish. Overcast days present their own opportunities because there are always great images just waiting to be bagged ­ even when the sun isn't shining.

For some subjects such as portraiture or weddings, a dull day is actually better because there are no harsh shadows or people squinting at the sun.

On a dull cloudy day the light is coming down from all around and the sky becomes one giant overhead soft box which stretches from horizon to horizon. Some studio photographers spend thousands trying to replicate it ­ but you can have it for free!

This portrait of Lorna was taken by Andrew Stamp on a One-to-One Photography Course with me on a very overcast day. To make the light come from in front instead of above - Lorna posed just inside the open door of my motorbike shed so she's lit by nice soft but directional light coming in through the door. (More on this in my next photography tip)
Instead of looking for the 'big' pictures ­ focus your attention on smaller cameos of your location. Big scenes need great light to bring out texture and form but close ups of flowers, leafs, and frozen drops of water all work brilliantly.
As you get in close - look for abstract repeating patterns. This rusty bracket was photographed by One-to-One Course photographer David Thomas ­ the red yellow and brown stripes in the background are beach hut doors.
Slow down and think about your composition. When you don't have great light to make an image work your composition has to be powerful. The 'Rule of Thirds', strong diagonals and lead in lines will help.
Using a wide lens in close to something solid like the scruffy peeling paint (below)make's for drama and strong lead in lines - forcing you along the wall of these dismal winter beach huts to the dull grey sky and solitary figure. (also by David Thomas on a One-to-One)
The classic 'Blurry cotton wool water tumbling over rocks' works particularly well on dull days. Because the light level is low it's easier to get a slow shutter speed ­ and because there's no sun shining on the water you can still retain highlight details in the bright white rushing water.
Set your white balance manually to Cloudy or Shade. Don't use auto White balance as it can be confused by the colour of the subject and make the picture look dull. If you set the above settings you know it's correct for the conditions and your pictures will be warmer and more pleasing to look at.
If your camera has 'picture settings' in the main menu try using 'Vivid'. This will enhance colour saturation and contrast ­ both of which will be missing from the available light.
If you only have the program modes accessed from the command dial on top try using 'Landscape' as it has a similar effect to Vivid on most cameras.
Well I hope these 'dull day' photography tips help you keep clicking away as you wait for the magical longer days and low level sunlight of spring.
If you'd like to join me for a One-to-One Photography Course like Andrew and David then you'll be most welcome.
Next time I'll take you through how Andrew's portrait of Lorna was taken, show you where it was taken (trust me - you won't believe it till you see it) and I'll show you how to find great pools of light for portraiture for yourself.

Best…..