| | |
| --- | --- |
| New 3D Category for Sony World Photography Awards | 7th Jul 2011 |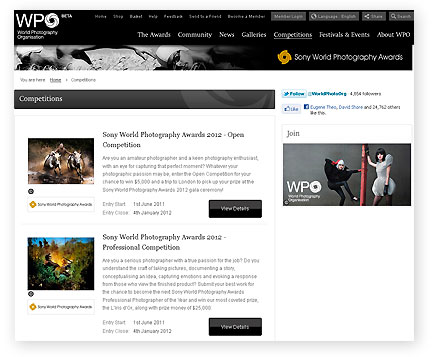 We've just tidied up the photography videos section to help you take better photos, which is handy because entries can now be submitted to the Sony World Photography Awards 2012.
New 3D category for Sony's World Photography Awards
Highlighting the growing importance of 3D in the world of photography, Sony has introduced a new 3D stills and video category into its World Photography Awards.
The annual awards - which provide a global platform for professional, amateur and young snappers to showcase their photojournalism, fine art and commercial shots ­ are already open for entries.
A Sony World Photography Awards spokesman said, "3D video and photography is experiencing exponential growth. Practitioners in the spheres of film, art and photography are embracing new, dynamic 3D technology to push their art forms further than ever before."
Photographers keen to enter the awards' new category can submit their 3D images, which have been taken using stills or video cameras. The 3D category will be split into two ­ 3D Still and Panoramic.
Vice president of Digital Imaging at Sony Europe, Tatsuya Akashi, said, "At Sony we're passionate about pushing the boundaries within digital imaging innovation.
"3D technology provides a new way for people to explore their creativity and we look forward to seeing some exciting entries to these new categories," he added.
To read more about the awards, visit
The deadline for entries to the 2012 competition is 4 January 2012.
Join us on...