Iceland Photography Workshop
Sat 11th - Sat 18th February 2017 (8 days 7 nights)
Late Night Lights

Join award winning photographer and mentor Mike Browne and Icelandic photographer / tour guide Thor Jonsson on a photographic journey in the land of Trolls, Waterfalls, Fire, Ice and Mystical Lights in the Sky - Iceland.
Who's it for?
The Iceland workshop is suitable for all levels of photographer wanting to have a photographic adventure in one of the world's most exciting locations. Tuition and advice will be given on location so you'll learn loads, dedicate time to photography with like minded people and come home with hundreds of exciting images.
The Aurora (Northern Lights)
Obviously, everyone wants to go home with awesome images of the Aurora Borealis or 'Northern Lights' and we will be concentrating on chasing them down in the best possible locations.

The dates for this workshop have been chosen for the most likely time of year to see this extraordinary phenomenon and to coincide with a bright moon which will light the landscape and give a sense of place to your images.

Whilst the Aurora cannot be guaranteed or accurately predicted, it is extremely unlikely you will not see it.

It is entirely likely that hotel owners will wake us at any hour of the night to let us know if the Aurora is happening - so cameras packed and be ready people :-)
Where are we based?
We begin and end in Reykjavík though we will be moving between and staying at some of Iceland's most spectacular photo locations. Full details are in the itinerary.
Locations Include (but are not limited to...)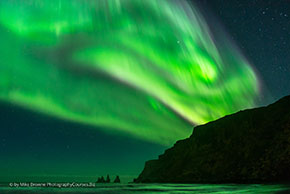 Vik and surrounding area: Though Vik has only a small population, it is the largest town in the area and features black sand beach, the famous 'Sea Stacks' headland (pictured here with a monster Aurora) and isolated red roofed church overlooking the town.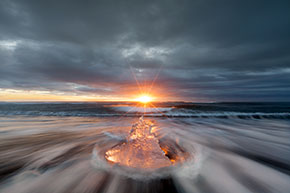 Jokulsarlon Glacier Lagoon (The 'Ice' Beach): The retreating Breiðamerkurjökull glacier deposits chunks of ice of all shapes and sizes into the lagoon, which get washed onto the shore. By carefully choosing the time to visit, it is possible to get the low sun behind this beautiful clear glacial ice, which makes it sparkle like diamonds. We will probably visit this location more than once.
Image by Jodi Penfold (on 2016 workshop)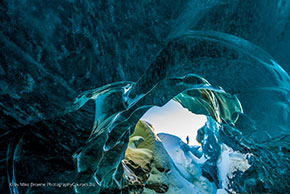 Vatnajokull National Park: Vatnajökull National Park features a huge variety of landscape features including Europe's largest glacier, mountains and volcanoes.
There are some famous ice caves which we may or may not visit depending on how crowded they are and weather conditions. If it rains or tempreture climbs much above 0 degrees they flood.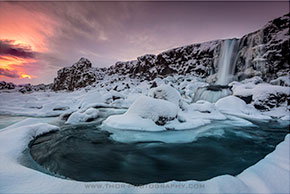 Thingvellir National Park / Golden Circle: Attractions include the rift valley which is caused by Mid-Atlantic Ridge and the largest natural lake in Iceland - Þingvallavatn.
What will I learn?
Besides creativity and use of light, composition and on location mentoring to ensure you get the very best from the locations Iceland has to offer, we will be coaching you on the use of histograms to control exposures to ensure maximum tonal range. This is vital when shooting the Aurora. Thor and I will always be available to address individual needs.
Iceland presents unique opportunities for long exposure photography and landscapes. Besides a whole range of camera skills, using Neutral Density filters to blur movement of waves and clouds scudding across the sky will be a big part of this workshop.
We'll be working with light in the landscape and planning locations for the time when light is most appropriate for the scene. Iceland has many isolated buildings and structures to practice composition skills including use of Negative Space to capture that 'lonely' feeling in your imagery.
Planning and learning the thought process of photography is vital for any genre, but particularly so with landscapes and low light work. I call these the 7 Building Blocks of Photography and they are common to all cameras and photographic situations.
Your Guides and Tutors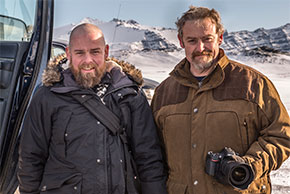 Thorarinn Jonsson (left) known as 'Thor' is an Icelandic landscape photography expert. With his huge knowledge of low light and night photography, Thor is a gold mine of post production tips and tricks to help you get the very best from your Aurora images.
Thor's an experienced photography tour guide. His knowledge of the best locations, Aurora hunting, the environment and safety within that environment are invaluable. He has a wicked sense of humour and if he offers you an Icelandic delicacy to try – take a small experimental nibble first!
Mike Browne (right) is a Youtube Photography guru with @13 million views. Ranked number 8 in the world's best photography educators by Petapixel, Mike's approach focuses on training the photographer to pre-visualise the image they want, then think through the steps needed to achieve it in camera.
Mike runs photo workshops and training around the world and his photography / consultancy clients range from private individuals to companies such as Jet Aviation in Switzerland who design and build luxury private jets.
Strangely, he often refers to Thor as 'Wifey'! Oh, and he'll protect you from anything potentially hazardous Thor tries persuading you to eat!
Why February when there's less daylight?
Most photographers want to capture the Aurora or Northern Lights. This can only be done during hours of darkness on clear nights. By running the workshop when the nights are longer your chance of shooting this astonishing natural phenomenon is greatly improved. It also means you get more sleep.
Getting to Iceland
Keflavik is Iceland's main international airport and it's serviced by many major international airlines. Our hotel in Reykjavík is 45 minutes by FlyBus. Details in the itinerary.
Accommodation
Accommodation for the duration of the workshop is included in the price. If you wish to stay a few nights before or after, please make your own arrangements as these are not included in the tour price.
Locations and details - please download an itinerary
Request a Call Back
USD $3900.00 (£2767 GBP approx)
I'm sorry, 2017 is Fully Booked:
Please register your interest for 2018 below, we'll contact you as soon as it's open...
Some homework before you come
The Workshop Prep page has a few specially chosen videos for you to watch to ensure we go straight to work and everyone gets the most out of our location and the training. If we all have a basic understanding of camera controls it helps everyone get the most out of the photo training.
Images from previous workshops
Mike Browne Photo Workshops on

(all images by participants)