Ultimate Beginners Photography Course
What's In The Video?
In Digital Photography Exposed - "the movie" you'll learn how to begin taking control of your photos by understanding the basic concepts of your camera and photography.
To help you avoid confusion we'll start right at the beginning and look at what you need as a DSLR camera kit for a beginner.
I'll explain and demonstrate the controls you need and what effect they have on an image, before moving onto creative stuff like depth of field, composition, light and the massive impact it has.
The video is shot in the kind of place you might go when you've got a new camera and are hungry to try it out.
Who's this course for?
Beginners and photographers who want to start taking control of their photography - instead of hoping the camera will get a 'good one'.
You're an intermediate / advanced photographer? - Your next step is The 7 Building Blocks of Photography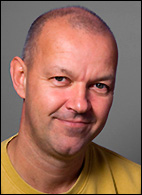 Mike delivers a superbly presented selection of tips and techniques to help you grasp the basics of photography without feeling patronised. You can't fail to learn with this.
Peter Bargh
(photographer and founder Ephotozine.co.uk)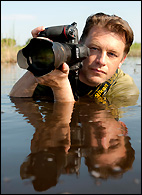 Mike makes the complexities of photography easy to understand with his enthusiastic and fun style of teaching - I thoroughly enjoyed it!
Chris Packham
(wildlife photographer and TV presenter)
View more details
What's in The eBook Course?
There's LOADS of great photo training which reinforces and expands upon what you learnt in the video. For example in the video you learnt how easy it is to make a manual exposure. Next you need to check it with your histogram and highlight warnings.
There's 136 pages of additional training including ...
White Balance and Monitor Calibration
Black and White photography
Dealing with the dreaded 'Red Eye' flash photos
Photo editing software and RAW format
Home Printing
Movement Blur techniques
Starting out with Flash
Photographing People and posing small groups
Portrait, Landscape and Wedding Photography
Trouble shooting guide
How To guide
I must say I have read a lot of books on photography and your beginner's photography course is making all the technical stuff a lot clearer - as well as that you are very funny :)
Emma Molyneux
I bought your Digital Photography Exposed course and down loaded it last night. Love the way it is written, as though you are talking. Crawled to bed at 2 am after the first 40 pages!!
David Gosling